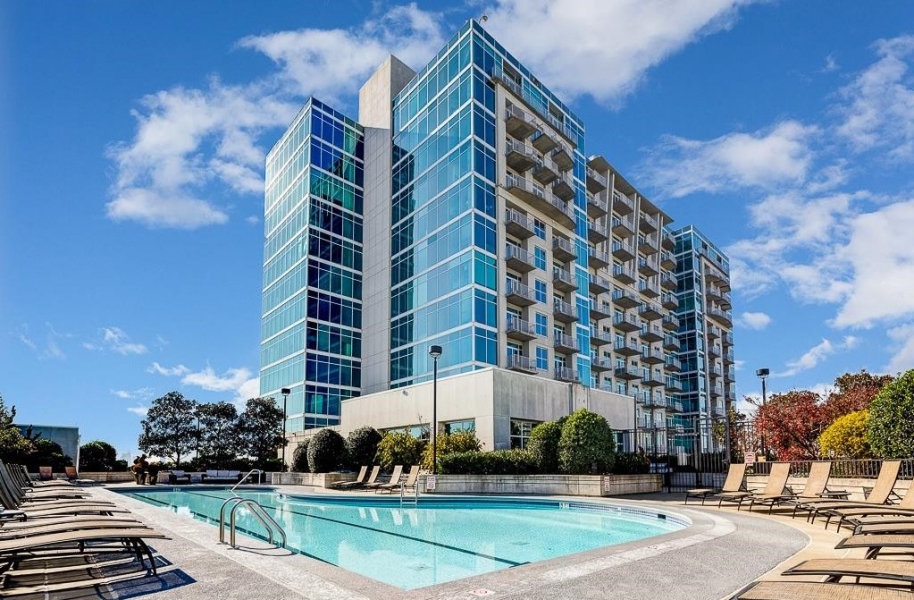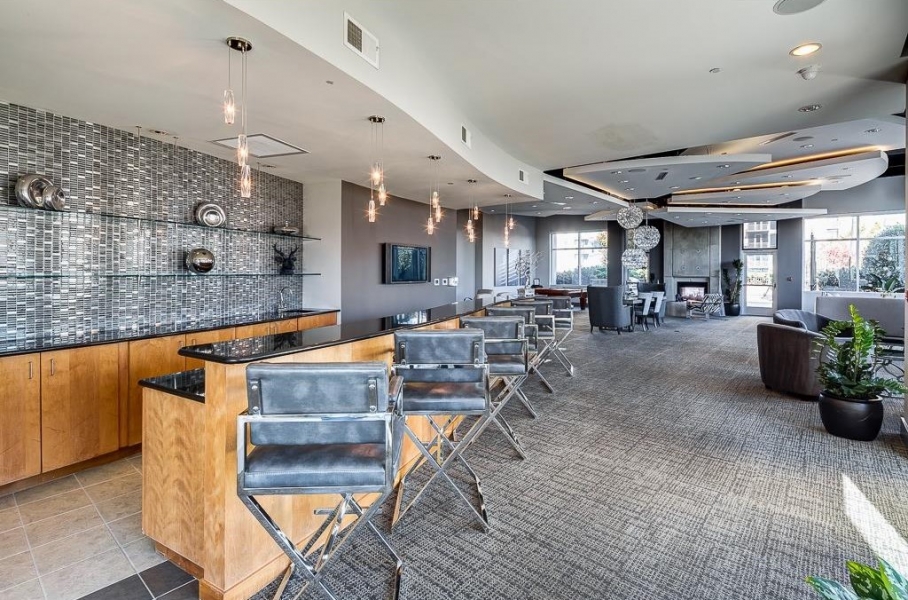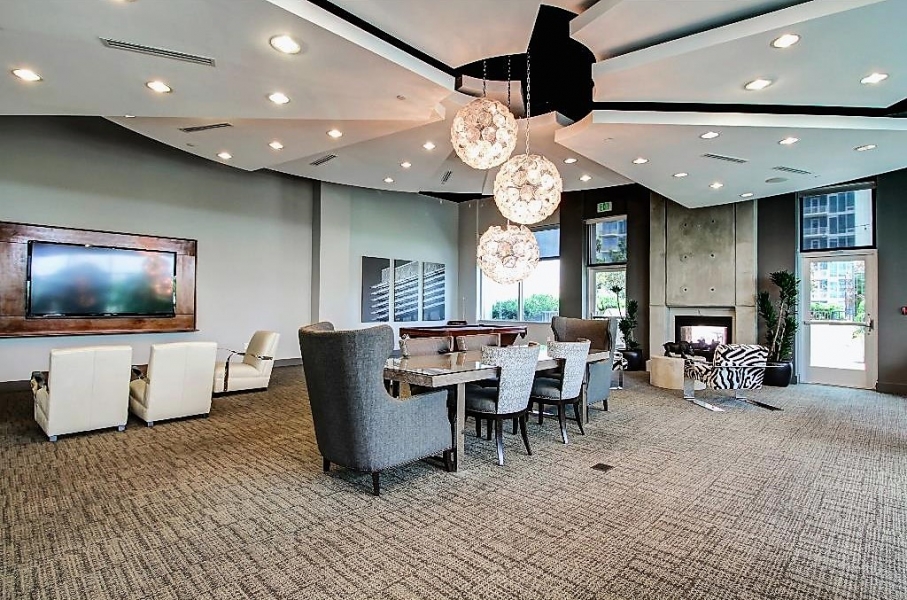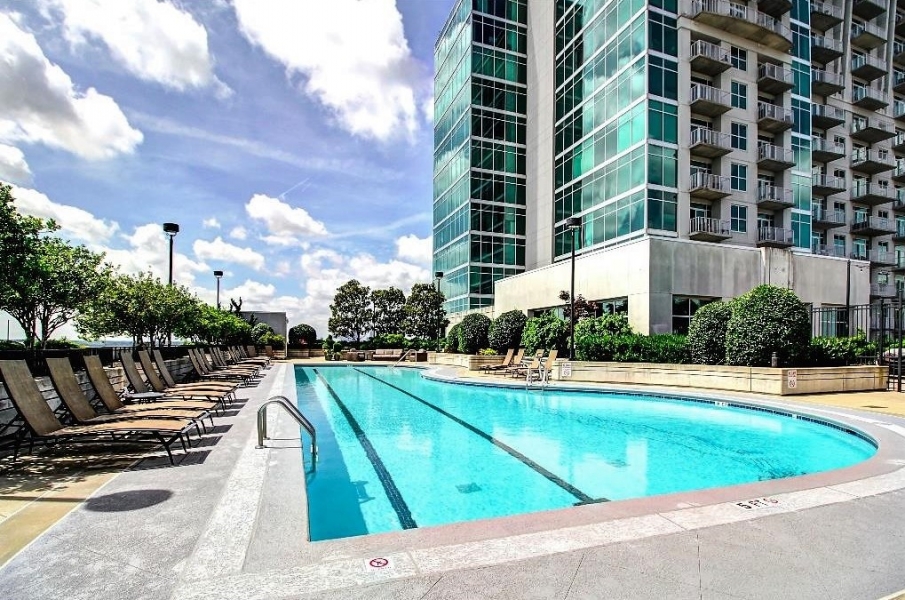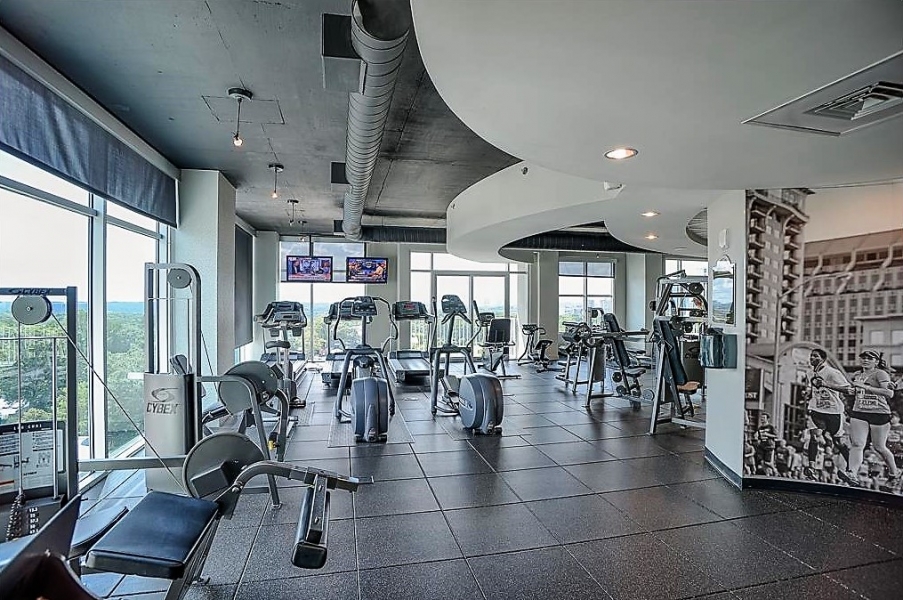 Building Info:
Address: 250 Pharr Road NE, Atlanta, GA 30305
Developer: Novare Group
Year Built: 2004
Building type: High-rise
Units: 358
Sqft range:
1-Bedroom: 726 – 827
2-Bedroom: 1,003 – 1,427
Interested in Eclipse? Here's what's currently available…
Questions about Eclipse? If you have questions about Eclipse or would like to visit a listing, feel free to call, text, or email anytime, we'd love to help.
Eclipse Condominiums Overview
Even in an area that's as glitzy as Buckhead, Eclipse is still hard to miss. With its understated modern exterior, that's wrapped in deep blueish-green windows, it has the all the markings of a Novare Group development. While there are several other high-rise condos in the immediate vicinity, Eclipse is one of only two that can claim they sit immediately next to Buckhead Atlanta. However, it's the building's distinctive contemporary condos which showcase exposed cement walls and floor-to-ceiling windows that really set it apart from many of the nearby buildings – like Ovation and Paces 325.
Eclipse Residences
Each floor in Eclipse is home to 18 condos ranging in size from 726 to 1427 sqft. The units all have 10-foot ceilings throughout and most have floor-to-ceiling windows in at least some of the rooms. While the kitchen and bedrooms have dropdown soffits for venting and mechanicals, their curved surfaces look as if they're intentional parts of the design, not accidental oversights that were added on in the last minute. The maple and cherry cabinets feature a simple and modern trim and all of the countertops in the kitchen and baths are decked in granite. Most units are finished with tile backsplashes and stocked with stainless Whirlpool appliances.
The Views, the views, the views…
Eclipse sits at the southeast corner of Pharr Road and N. Fulton Drive, which allows much of the building to have unobstructed views of the surrounding area. South facing units have fantastic views of downtown Atlanta and they overlook the Atlanta International School. West facing units can also catch a glimpse of Atlanta and have beautiful views of Buckhead Atlanta, Saint Regis, and Ovation. Eastern facing condos have stunning views of Stone Mountain and Buckhead's financial district. North facing units have great views of Buckhead Atlanta and the financial district. North and east facing homes also offer fantastic views of Fourth of July fireworks that are hosted at Lenox Mall.
Eclipse's Amenities
The amenities are on the east side of the 10th floor and because the building isn't crowed by any other nearby buildings, the pool and sundeck have incredible views in almost all directions. The gym is one of the nicer facilities in the area and boasts floor-to-ceiling windows that look out over downtown Atlanta. The gym features a full supply of free weights and weight machines as well as yoga equipment, treadmills and ellipticals.
Eclipse's clubroom and lounge were recently redecorated in a sleek and contemporary style and the rooms are accented with an assortment of high-quality furniture. The lounge opens to an outdoor grilling area that sports two well maintained gas grills that are so clean, you'll actually want to use them.
To sum it up…
If you're looking for a distinctive, contemporary condo, that's well-maintained and surrounded by some of the most exclusive shops and restaurants in Atlanta, the Eclipse should certainly be on your list. For the price point, Eclipse is one of the best offerings in Atlanta.
Additional Details:
Eclipse Recent Sales History and Pricing:
Price range of sales in last 12 months: $175K – $400K
Average price/sqft in last 12 months:
1-Bedroom units: $272/sqft
2+Bedroom units: $289/sqft
Eclipse Access and Security:
Fob access: keys are limited only to unit floor and amenities. 24-hour concierge controls visitor access.
Parking: Gated parking deck, deeded one car per bedroom
Guest Parking: Paid valet or paid parking in deck
Eclipse HOA Details:
• HOA rate: Approximately $0.38 per sqft*
• Eclipse Condo Leasing Cap: 25%
Eclipse Location – What's Within Walking Distance?
• Buckhead Atlanta – Shopping: Hermes, Dior, Tom Ford, Brunello Cucinelli, Jimmy Choo, and more…
• Gypsy Kitchen
• Dolce Italian
• American Cut
• Flywheel
• The Capital Grille
• Atlanta Fish Market – directly across the street
• Fado Irish Pub –directly behind the building
• Instanblue restaurant -downstairs
• CABO Cantina –downstairs
• Sole Spa –downstairs
• Basil's Restaurant and Tapas Bar
• Meehan's Pub
• The Buckhead Theatre
• Whole Foods
• Chops (steakhouse and lobster bar)
• St Regis
• King and Duke
• Umi -sushi
• Seasons 52
• This is just a fraction of what's within walking distance, but I've got to stop somewhere because this list would just go on and on…
Eclipse Amenities Include:
• Terrace style pool on 10th floor
• 24-hour Concierge
• Contemporary styled lobby with large digital artworks
• Valet Parking: Tuesday- Saturday: 10:00AM -7:30PM
• Theater Room
• Clubroom/ Lounge with bar
• Pet walk
• Fitness and Yoga area
• Outdoor grilling stations and lounge area
• Gated/Covered Parking
• Secure fob access
Eclipse's Residential Features Include:
• Floor-to-ceiling windows in most units
• 10-foot ceilings
• Granite countertops with under mounted sinks in the kitchen and bathrooms
• Maple and cherry cabinets
• Tiled floors and shower surround in bathrooms
• Hardwoods in the kitchen and common areas
• Stainless whirlpool appliances
Interested in Eclipse? Here's what's currently available…
Questions about Eclipse? If you have questions about Eclipse or would like to visit a listing, feel free to call, text, or email anytime, we'd love to help.