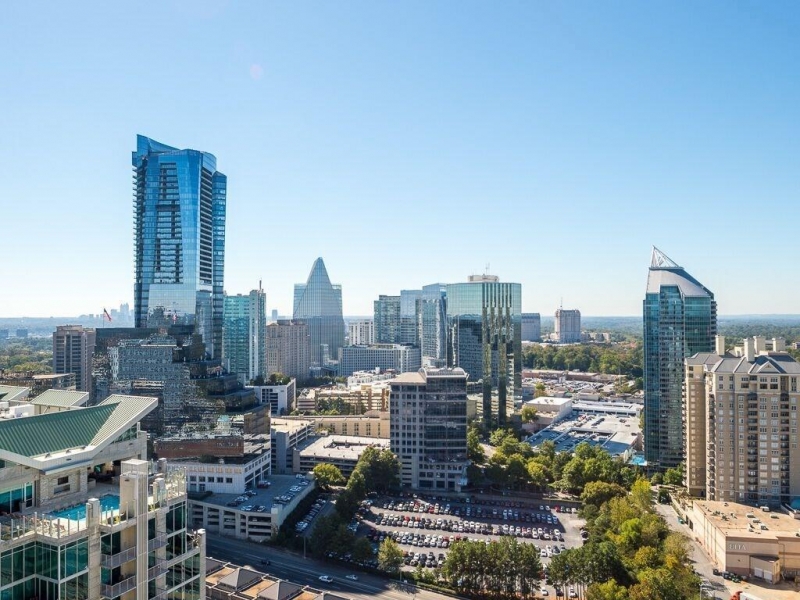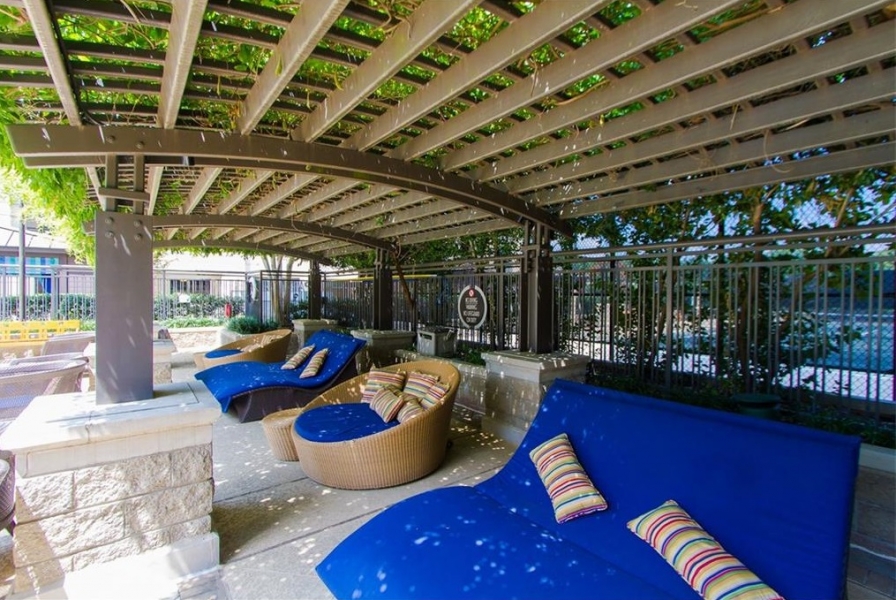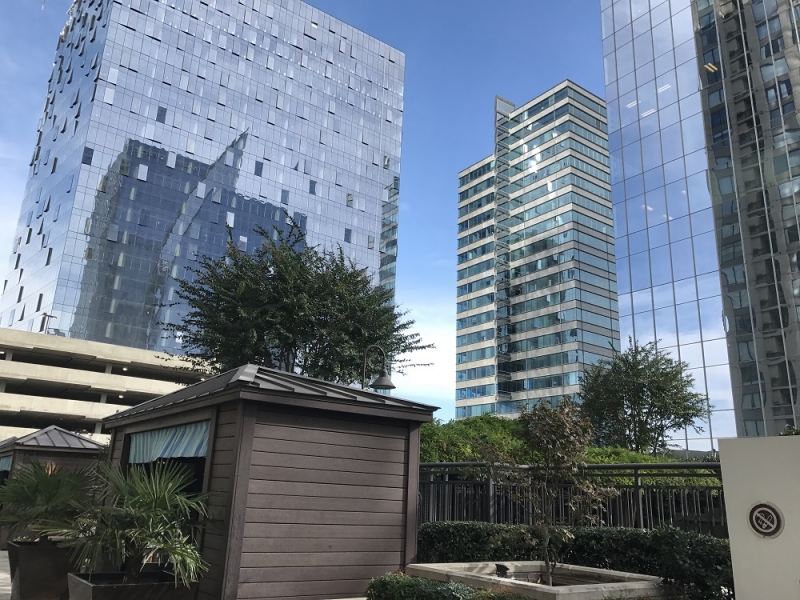 Paramount Building Overview:
Address: 3445 Stratford Road NE, Atlanta, GA 30326
Developer: Julian LeCraw & Company
Year Built: 2006
Building type: High-rise
Units: 302
Sqft range:
1-Bedroom: 808 – 1,363
2-Bedroom: 1,363 – 1,868
Penthouses: 4,770 – 5,178
Interested in Paramount? Here's what's currently available…
Questions about Paramount? If you have questions about Paramount or would like to visit a listing, feel free to call, text, or email – we'd love to help!
Paramount Condominiums Overview
Every now and then you come across a building that really surprises you, and Paramount is just one of those buildings. It sits quietly behind its more domineering neighbor the Mandarin Oriental, just off Peachtree Road. It's somewhat unassuming demeanor gives way though the moment you walk inside.
The lobby is sophisticatedly chic with paneled walls and columns that are accented by abstract paintings. There's also a discreet stream of ambient music playing in the background that gives the entrance a comfortable and warm feel. A 24-hour concierge greets you at the entrance and is there to help with whatever you might need, such as visitor parking and access. Homeowners have access via secure key fobs.
Elevator landings on each floor are also very chic, with understated lighting, tray-ceilings, and a tasteful amount of crown molding. There are additional abstract paintings here as well which provide an elegant touch. Hallways are gently, but well-lit, and are decorated with rich geometrically patterned carpeting. Hallways are also lined with recessed tray-ceiling that are painted with accent colors adding to a thoughtful and sophisticated feel.
One of the things that stands out most however, is that all of the plastered edges in the hallway (and in the units) have rounded edges. This subtle touch adds a sense of craftsmanship. The developers also mixed it up a bit and chose to accent some doorways and entryways with arches instead of traditional straight lines. One thing you may not notice as you walk into the units are the shallow stone thresholds at the doorway that separate the hallway carpet from the interior hardwoods. It's small touches like this that enhance the sense of quality.
Paramount Residences
As you walk into the homes, the 10-foot ceilings provide a sense of stature and space. Paramount's floorplans also tend to be somewhat larger than many of the other high-rise condos in the neighborhood. That larger footprint, combined with the tall ceilings, makes these condos feel very large and open. While some floorplans do have a small study or dining area in the interior of the home, the rest of the floorplan is designed around large windows that bring in heaps of natural light.
Like most high-rise condos, Paramount's top floor is dedicated to 2 penthouse suites. Given that they haven't changed hands in since they were originally purchased in 2007, it's safe to assume that they're likely very unique.
The Views, the Views, the Views…
Views from the units can be spectacular. Because it's located immediately adjacent to the Mandarin Oriental and the Alliance Center buildings, units located on the east side of Paramount don't have the expansive views that units on the north and west sides have, but the sheer beauty of the surrounding buildings is awe inspiring. West facing units have a unique vantage point that looks directly into the heart of Buckhead and the views become a real treat as the sun starts to set behind the skyline.
Paramount's Amenities
It's hard to know exactly where to start when it comes to Paramount's amenities. The common areas are located predominately on the second floor and it's a joy to just walk around them. As you step off the elevators, you'll enter the spa/lounge area that's complete with a robust set of weight machines, treadmills, ellipticals, and healthy assortment of free weights.
Paramount also offers a very comfortable and stylishly decorated lounge area that you can reserve for entertaining guests. The area has the feel of a small condo complete with a small sitting/living room, dining room, and full kitchen. It spills out directly onto the terrace level where the pool cabanas are located.
Speaking of the cabanas…. this is one of the most unique and enjoyable aspects of Paramount's amenities. Dotting the large terrace level, are multiple small tent-like cabanas that are lined with cushions, gentle lighting, and TVs. They're very comfortable and provide an incredible atmosphere for socializing throughout the year.
The pool is just behind the cabanas and also has a cozy little section that's covered with an arbor and vines – if baking in the sun isn't your thing. While the pool and terrace level do back up directly to Two Alliance Center, and may not be the most private place for sunbathing on a weekday, the beauty of the surrounding buildings more than compensates.
The terrace level also contains several smaller sitting areas with tables, benches, chairs, grills, and TVs that provide homeowners and guests a fantastic environment to relax and socialize.
Paramount's General Location:
While Paramount is somewhat tucked away, it has easy access to Peachtree Road and it is located directly across from the pedestrian bridge spanning 400 which gives residents easy access to MARTA, Buckhead Station, and Buckhead Church.
If you're looking for a well-maintained condo with large floorplans, great views and fantastic amenities, you should certainly consider Paramount.
Paramount Location – What's Within Walking Distance?
• Buckhead Station: Old Navy, DSW, Nordstrom Rack, and more
• MARTA
• Del Frisco's Grille
• New York Prime
• Lenox Mall and Phipps Plaza
• Buckhead Church
• Atlanta Tech Village
• AMC Dine-in Theatres
• On The Border Mexican Grill and Cantina
• Chipotle
• Octane Coffee Bar
• Starbucks
• Farm Burger
• Ru Sans Sushi
• Chama Gaucha Brazilian Steakhouse
• Kroger
• LA Fitness
• Bistro Niko
• Buckhead Club
• Maggiano's
• Fresh 2 Order
• Gordon Biersch
• This is just a fraction of what's within walking distance, but I've got to stop somewhere because this list would be pages long….
Paramount Amenities Include:
• 24-Hour Concierge and front desk attendant
• Clubroom with catering kitchen and dining room
• Valet and secured/covered parking
• Chic private cabanas with flat screen TVs
• Luxurious pool with covered seating section and towel service
• Expansive outdoor terrace-level lounge areas with outdoor grilling stations
• Fitness and cardio facilities, complete with treadmills, weight machines and free weights
• Spa and massage room
• Cozy movie theater and media library
• Coffee and tea station offering a wide range of caffeinated selections
• One of the area's only tennis courts
• Dry cleaning services
Paramount's Residential Features Include:
• 10-foot ceilings throughout
• Granite countertops in kitchens and bathrooms
• Tiled floors in the kitchens and bathrooms
• Sleek modern styled maple and cherry cabinets
• Stainless steel Maytag appliances
• Harwood floors in the living areas
• Large, private, covered balconies with sweeping views of the Buckhead skyline
• Large garden tubs with tiled surrounds
• Double vanities in the master-bath
Interested in Paramount? Here's what's currently available…
Questions about Paramount? If you have questions about Paramount or would like to visit a listing, feel free to call, text, or email – we'd love to help!