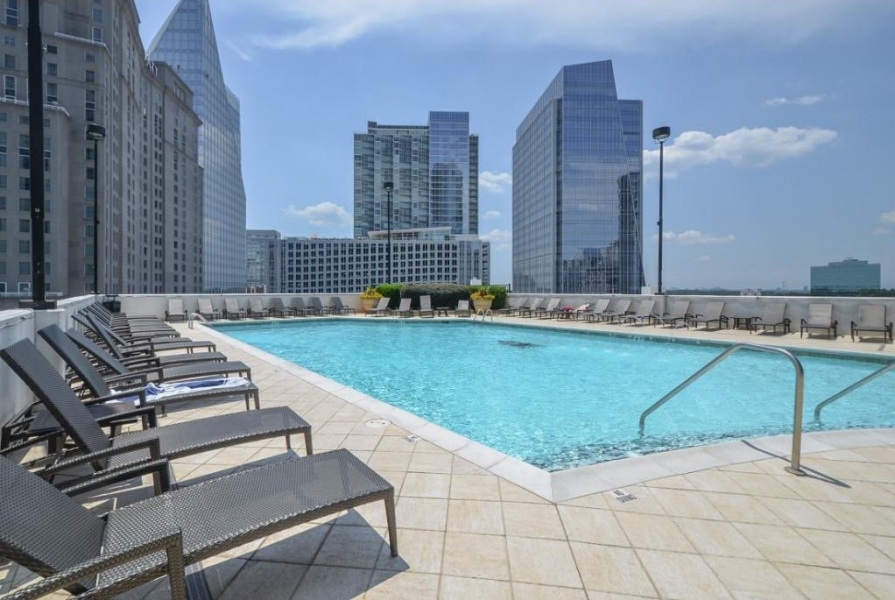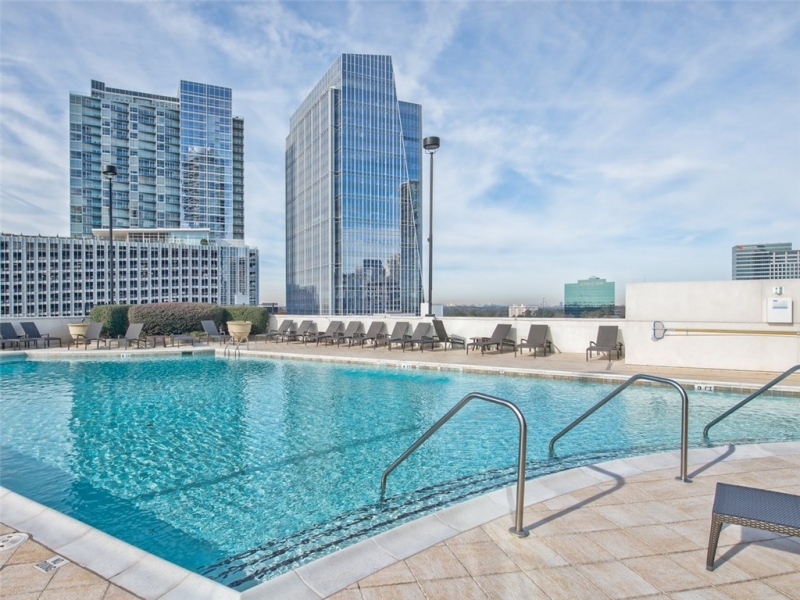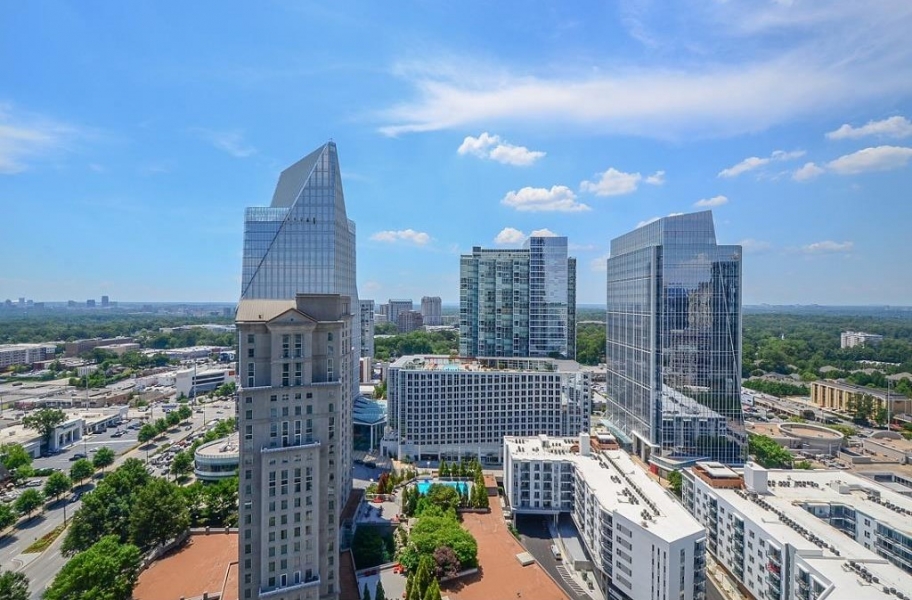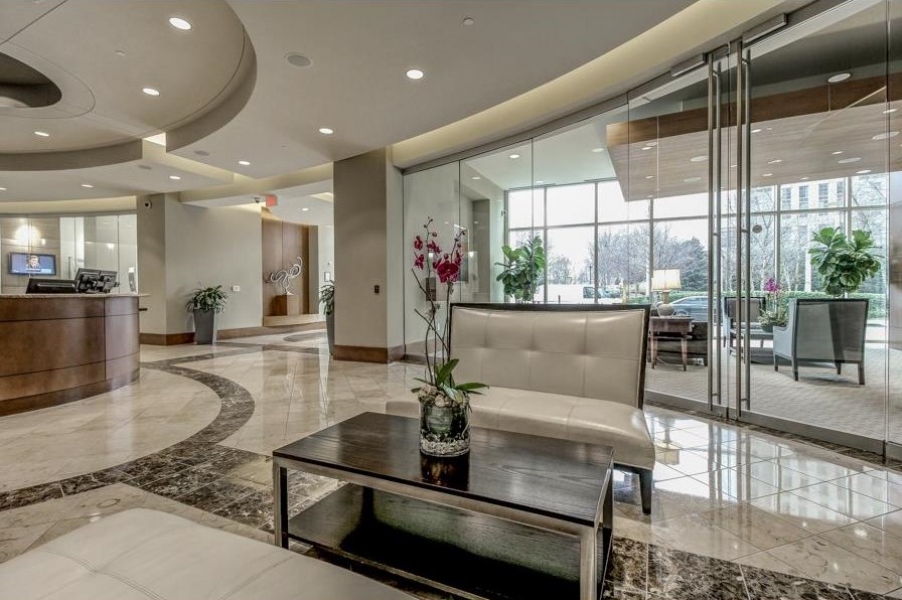 Building Info:
Address: 3324 Peachtree Road NE, Atlanta, GA 30326
Developer: Novare Group
Year Built: 2005
Building type: High-rise
Units: 406
Sqft range:
1-Bedroom: 620 – 798
2-Bedroom: 1,223 – 1,571
2-Story Penthouse Suites: 1,920 – 1,938
Interested in Realm? Here's what's currently available…
Questions about Realm? If you have questions about Realm or would like to visit one or more of the listings, feel free to call, text, or email anytime, we'd love to help.
Realm Condominiums Overview
Realm is another fantastic example of a Novare Group high-rise condo development. Located in the heart of Buckhead's financial district at the corner of Peachtree Road and Highland Drive, its distinctive minimalist/modern design is immediately recognizable.
While Realm's lobby is somewhat unassuming, and almost has the feel of an office building – there are actually some private offices in the lobby, it is bright, stylish and well-maintained. A 24-hour concierge provides secure access for guests while fob keys grant access for residents. The hallways and landings are welcoming and quiet, and the hall ceilings are accented with deep "architecturally inspired" recesses that create a sense of depth.
Realm Residences
Individual units all have 10-foot ceilings which immediately add to the sense of space as you walk in. Floor-to-ceiling windows only enhance the feeling of openness and provide breathtaking views of the Buckhead skyline. The sliding glass-doors that lead to the balconies are also full 10-feet which makes it feel as if you're just sliding one of the windows open to step outside.
Residences are finished with hardwood floors in the kitchen and living rooms, granite countertops in the kitchen and baths, tile surround on bathtubs, and stainless Whirlpool appliances. Interior ceilings are bare concrete with HVAC and lighting mechanicals hidden behind curved and arched drywall soffits that are incorporated into the design of the home.
Terraces and Penthouses
Like many high-rise condo buildings Atlanta, Realm's floorplans are fundamentally the same on every floor. However there are two unique exceptions that create some interesting options.
Condos located on Realm's 8th floor all have large garden style terraces in-lieu-of the free standing balconies found in the rest of the building. These terraces are designed to flow seamlessly from the interior and create roughly 200 sqft of outdoor living space. Given their uniqueness, it's understandable that they don't turnover that often. As of this writing, it's been almost 2 years since the last one found its way to the market.
Realm's 30th floor is home to its penthouse suites. Overall, there are 17 penthouse units on this floor and all have 12+foot ceilings. Many of these units have been heavily customized and the extra ceiling height adds to the sense of grandeur. However, the star attractions on this floor are the four 2-story corner units which are the largest in the building and all feature their own exterior terraces.
The Views, the Views, the Views…
While views from the north side of the Realm are obscured to some degree by its neighbor – Sovereign, they are still wonderful, as Sovereign is one of the most aesthetically appealing buildings in Atlanta. Units near the northeast corner also have a stunning view of Peachtree Road as it runs towards Lenox Mall. These residences also have great views of the Fourth of July fireworks that are held at the mall every year. East facing units have sweeping views up and down Peachtree Road and look out over the Intercontinental Hotel which sits across the street. South facing units have wonderful views of the Grand Hyatt Atlanta and Terminus buildings.
Realm's Amenities
Realm's amenities can be found on the eighth floor and walking through the doors at the end of the hallway, you'll find yourself in the 2-story foyer/sitting area which spills into the adjacent lounge and bar. The space is cozy and perfect for entertaining as it looks out over a large cultivated terrace that contains several sitting areas, a fire pit and fountain which are all comfortably lit in the evenings.
There's also a 2-story gym connected to the lounge area where you'll find an assortment of exercise machines and weights. From there, you can take the spiral staircase to the second floor to the treadmills and elliptical machines.
The pool is also on the terrace level and a convenient grilling area sits just outside the gate. While the pool is surrounded by several nearby buildings, the views are rather spectacular and the proximately of those buildings makes it feel cozy.
Realm's General Location:
Realm is located in the heart of Buckhead's financial district on one of Atlanta's most famous streets. It's just steps from MARTA and an almost endless array of restaurants, shops, and entertainment options. If you ever wanted to ditch your car and dive head first into city living, Realm is one of the few places in Atlanta where you could actually do that.
If you're looking for a sleek, modern building in Buckhead, that's well-maintained, reasonably priced, and has gorgeous views, Realm should certainly be on your list.
Additional Details:
Realm Recent Sales History and Pricing:
Price range of sales in last 12 months: $205K – $730K
Average price/sqft in last 12 months:
1-Bedroom units: $341/sqft
2+Bedroom units: $319/sqft
Realm Access and Security: Fob access: keys are limited only to unit floor and common area. 24-hour concierge controls visitor access.
Parking: Gated parking deck, deeded one car per bedroom
Guest Parking: Paid parking is available for guests in the Parking garage. The concierge can also provide validation for valet parking at Sovereign at a rate of $5 for 24-hours.
Realm HOA Details:
• HOA rate: Approximately $0.41 per sqft*
• FHA Approved? Yes
What's Within Walking Distance of Realm?
• Buckhead Station: Old Navy, DSW, Nordstrom Rack, and more…
• Lenox Mall
• MARTA
• Ruth's Chris Steak House
• Buckhead Church
• Atlanta Tech Village
• AMC Dine-in Theatres
• Highland Bakery
• Caribou Coffee
• On The Border Mexican Grill and Cantina
• Chipotle
• Octane Coffee Bar
• Starbucks
• Farm Burger
• Ru Sans Sushi
• Chama Gaucha Brazilian Steakhouse
• Kroger
• LA Fitness
• Bistro Niko
• Buckhead Club
• Maggiano's
• Fresh 2 Order
• Gordon Biersch
• This is just a fraction of what's within walking distance, but I've got to stop somewhere because this list would just go on and on….
Realm Amenities Include:
24-hour hotel styled concierge service
Stunning rooftop pool and sundeck
Lushly landscaped terrace level deck with walking paths, outdoor fire pits and lounge areas
Spacious and clubroom with bar and catering kitchen
Fitness center with 2nd-level aerobic center accessible via a stylish spiral staircase
Secure covered parking
Secured access for residents via fob key
Realm's Residential Features Include:
Modern design including exposed concrete ceilings and walls
10-foot ceilings
Floor-to-ceiling windows offering stunning views
Cover balconies
Granite countertops in kitchens and baths
Tiled bathroom floors and shower surrounds
Stainless Whirlpool and Kitchen-Aid appliances
Interested in Realm? Here's what's currently available…
Questions about Realm? If you have questions about Realm or would like to visit one or more of the listings, feel free to call, text, or email anytime, we'd love to help.