This could change Atlanta's skyline entirely….
Olympia Heights Management has confirmed that they intend to start construction on 98 Fourteenth Street by the end of the year. Once completed, the project promises to dramatically change Midtown's skyline. At 74-stories, 98 Fourteenth Street will be the second tallest building in Atlanta (behind Bank of America Plaza) and will stand roughly 100 feet higher than its neighbor (and current tallest building in Midtown) One Atlantic Center.
…I couldn't help but laugh at the way the developers are depicting the new building looking down somewhat on One Atlantic Center:
The mixed-use building is slated to have 382 luxury condos which would make it the largest luxury condo development to come on-line in Atlanta in more than 10 years. Pricing is slated to start in the $700s which will provide some much needed inventory in mid-tier price range. Before we get too excited though, projects this size take considerable financial backing and bureaucratic handwringing, and more than one source has reported that things aren't quite in place for ground breaking.  That said, Olympia Heights Management, and the building's architecture firm – Perkins+Will, have yet to say there will be any delay.
While the prospect of adding more "mid-tier" condos to the Midtown market sounds great, I should mention that initial prices are expected to approach $1000/sqft, which would set that $700K starting price at about 700 square feet …ouch.  While pre-sale marketing hasn't kicked off yet, we do know that residential amenities are slated to include: a full-floor "sky lounge" with floor-to-ceiling windows, conference and media rooms, a heated infinity-edge pool (that could be terrifying …and exciting if it finds itself on the roof), a state-of-the-art fitness center and yoga studio, a private dining room, and a high-end kitchen and bar that "caters to epicurean enthusiasts."
While there is still a lot to be ironed out, and questions linger as to when (and if) they'll start construction, let's just enjoy what the city might look like when it joins the rest of the Atlanta skyline  …because the renderings look incredible:
: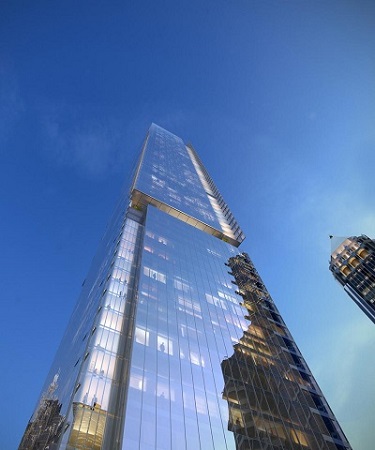 Considering buying or selling a home? Here are a few resources and related articles: Seller Resources
How to Get the Most for Your Home – Part 1: Preparation
Atlanta Real Estate Predictions for 2017
Why Photography is so Important in Atlanta's Real Estate Market
Dear Real Estate Agent, What Were You Thinking? How to NOT sell your home…
How to Get the Most for Your Home – Part 2: Positioning and Promoting your Home
Buyer Resources
First-time Homebuyer's Guide
Atlanta Homebuyer FAQs
5 Tips for Buying a New Construction Home
Atlanta Real Estate Predictions for 2017
Are You Being Watched? …Buyers Beware