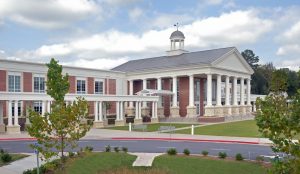 U.S. News released its annual ranking of the best high schools in Georgia this week and while many of the usual suspects were present, there were a few notable names that didn't make the list. Before we take a look at the rankings, I want to remind everyone that these rankings should be taken with a grain of salt as there are dozens of ways schools can be evaluated and ranked. For its part, U.S. News states its methodology consists of 4 parts:
STEP 1: Students perform better than expected in their state.
They looked at reading and math results for students on each state's proficiency tests and then factored in the percentage of economically disadvantaged students, who tend to score lower.
STEP 2: Disadvantaged students perform better than state average.
They compared each school's math and reading proficiency rates for disadvantaged students with the statewide results for these student groups and then selected schools that were performing better than their state averages.
STEP 3: Student graduation rates meet or exceed a national standard
They excluded schools from consideration if their graduation rates were lower than 75 percent – a threshold that is higher than a federal law that requires states to give extra resources to schools below 67 percent.
STEP 4: Students are prepared for college-level coursework.
They calculated a College Readiness Index, which is based on the school's AP participation rate and how well the students did on those tests.
So, with that said, here are U.S. News' Top Ranked Georgia High Schools for 2017:


…and yes, the featured photo on this page is of Milton High School. It didn't make this year's top 20 according to U.S. News, but it's my alma mater so I wanted to give it a nod just the same. 😉
Considering buying or selling a home? Here are a few resources and related articles:
Seller Resources
How to Get the Most for Your Home – Part 1: Preparation
Atlanta Real Estate Predictions for 2017
Why Photography is so Important in Atlanta's Real Estate Market
Dear Real Estate Agent, What Were You Thinking? How to NOT sell your home…
How to Get the Most for Your Home – Part 2: Positioning and Promoting your Home
Buyer Resources
First-time Homebuyer's Guide
Atlanta Homebuyer FAQs
5 Tips for Buying a New Construction Home
Atlanta Real Estate Predictions for 2017
Are You Being Watched? …Buyers Beware